Our olfactory senses are nothing short of a miracle. Somehow, we are able to distinctly remember beautiful and unfortunately, even acrid odors from way back in our past.  One such olfactory memory of my childhood is the trip that I used to take with my father to the fish market, every Wednesday morning.  At eight years old, I wasn't very useful in the haggling and smooth talking that is necessary whence shopping for fish in India, but I was quite good at marveling at the messy grandeur of the fish market, the playground of the Koli women. Stern-faced, warm-hearted, and extremely business-minded, no wonder these women and their fishermen spouses once ran the metropolis of Mumbai.
The Kolis are an indigenous community who have been residing in parts of the seven islands that today comprise the city of Mumbai. This community in particular has seen the dynamic changes that the city has gone through under different monarchs in the early 1700s and the British Raj starting in the 1800s. Some of Mumbai's most prominent neighborhoods like Worli and Dongri used to be loading docks for the fisherman's haul.  If you've ever been to Mumbai, you could not have missed the Kolis. Women in their colorful navvaris (sarees made up of 9 yards), balancing 50 kilo baskets full of fish on their heads as they casually cross the bustling streets. Koli fishermen with their baggy red hats and muscular shoulders seem to carry the weight of the entire community as they pass you by.  The Kolis use the early morning local train system to transport fish to the different parts of my concrete jungle. They're like plasma cells running through the circulatory system of Mumbai, the local trains. The Kolis truly are the heart and soul of Mumbai.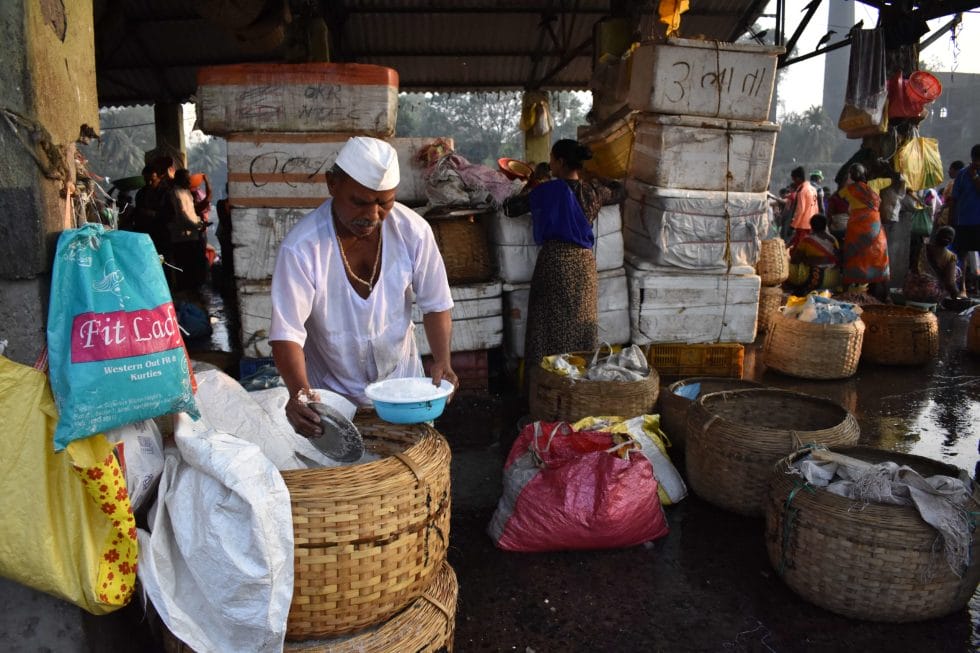 All the fish trade in Mumbai other than the supermarkets and standalone fish shops, starts at the southernmost tip of Mumbai, known as the Sassoon Docks. This acre of coastal land is one of the last living and functioning fishing docks that has survived the era of modernization and "one-click away" commerce. A visit to Sassoon Docks will either scar you for life or it will make you fall in love with Mumbai and its eccentric culture. For me, it was the latter. The Docks are filled with a variety of people and personalities. Koli women buying and selling fish have a "no-nonsense" attitude towards awe-struck civilian tourists like myself. Mild abuse is just floating through the air at all times, but that's just how Mumbai works. In Mumbai, time is money and money is God. When you step into their territory and start messing with their time and their money, Koli women do not hesitate to unleash their wrath unto you.
In a world of virtual reality, self-driving cars, and Big Data, indigenous communities like the Kolis struggle to sustain their culture and legacy. As we mindlessly float through life looking at our cellphone screens, indigenous communities all over the world fall behind every single day. With the opportunity presented to us in a global world and our access to information, it is our duty to inform ourselves about the struggle of indigenous communities and to play a role in their conservation, no matter how small.
Author: Nikhil Bendre