In year 2015, I was working for a project called `Ecological Communities Inventory for Ormanevi Ecological Collective. In a duration of 5 months, I visited and interviewed more than 60 communities. And of course, the most interesting of the list was Sarikecili people, the people with yellow goats, the last nomad community of Anatolia.
The Sarikecili people, who welcome you under the tents made of their own knitted goats' hair in the mountains and with the tea they brew from the forest, answer your questions without hesitation, pose as you wish, and get the best light and get the moment "best" and most "likeable". They make you run with their goats and tell how they observe all kinds of plants, air, water, and how they live in harmony with the goat "comrades". How fun to tell later, it is, right? In your city friendship environment, you are the focus of the conversation, you keep telling how cool these people are. But when you stop after a while, you switch to "other topic" like we usually do and you totally forget about them unless you talk and show off about your travel until next time.
But wait a minute! The feeling you live here is actually a feeling that is not foreign to you, you try to remember it. Hmm, yes, I found it! Isn't it just like visiting a museum or a city and then telling over and over? It is talking about the paintings and sculptures that strike you the most.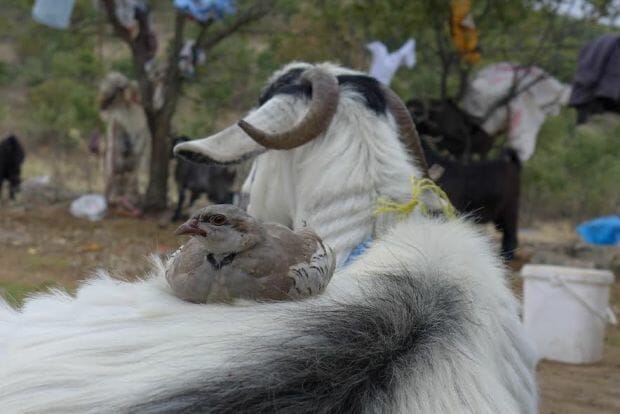 "What does that mean now? How beautiful we are telling other people that there are still people living like this so that everyone can see. Their clothes, their lives are incredibly beautiful. I am not doing anything wrong" you think. Let's read the subtitles of these "urban" sentences: "Well, nice and beautiful up there, but we love cities; I love my hot bed, my fixed address. " And it is followed by: "Let there be roads, we can go anywhere; I need new furniture made out of wood in my new home, I need marble, it will be very beautiful, it will look super; Let the water never be cut off, let me not be stuck with shampoo in my hair in the middle of my shower because the water runs off." You are returning to your daily concerns and you resume to consume, to consume more, without thinking about where the flowing detergent water goes. You want the electricity never to be cut off at all.
So where does this all come from? Don't you think it might be coming from the living areas of the Sarikecili people whom we romantize and like abundantly? Couldn't they be tired of those photo and video shots that were actually too artificial for them? While explaining everyday life to every visitor, don`t they feel bad that we do not care a single bit about their life and the ecological problems they are facing?
Nature-destroying dams, logging, intercity roads are restricting their habitat every day, and they are working hard to make their voices heard. But unfortunately, the visitors who are interested in the color of their clothes, the rushes of their children and the knitted sacks in their tents are not in a position to receive those important and challenging problems. The Sarikecili people no longer want people who come to them for a classic photo shoot. They do not need people who will pat their backs and talk about them only on their photos and videos at city exhibitions, but they need people who will walk alongside them in their struggles. In fact, they need to have their voices heard. Instead of sending their children to school, they need teachers who will be mobile with them. They need media coverage to make their voice heard about hundreds of trees cut in front of their eyes.
Our biggest duty is to see, follow and support the struggles to protect nature and their culture. Instead of presenting photoshopped images for them, it's time to give the mic to them.
Pervin Savran, the President of the Sar Solidarity Association, participates in the activities they have carefully selected, expresses the rights and wishes of the Sarıkeçili people and makes public speeches to express their problems to attract public attention. I hope that they become more successful to make their voices heard and explain their struggles to the world.
Let me explain an incident that really amazed me: They made the explanation of why everyone was eating from the same plate: "Since dogs cannot agree, we make them eat from separate containers, that is why it is important eating from the same plate is something beyond filling our stomach." That explains a lot.
As a last word, Pervin Savran, President of the Sarikecili Solidarity Association, has something to say to us. "We, Sarikecili people, have been walking in the Taurus Mountains for thousands of years. We spend the winter months on the shores of Mersin and the summers on the highlands of Konya and Karaman. However, since our living spaces are getting narrower, we have difficulty maintaining our way of living. We are children of nature. While we best endure the harsh conditions of the nature that as we speak its language, we are drowned in the problems created by man.
Human damage to nature (HEPPs, stone and mines, deforestation, Akkuyu Nuclear Power Plant Project) directly affects us directly. It destroys the blood flowing in our veins. While trying to survive in these extinctions, we are also trying to make our voice heard in order to solve bureaucratic obstacles and various pressures that make our life difficult. Lastly, we have demonstrated our presence and problems in the activities we took part in as the Sarikecili Solidarity Association, within the scope of the UN Conference on Combating Desertification, which took place in Ankara on October 12-23. 2014. We have received promises that our problems will be solved so that we can migrate freely and continue our lives. Concrete steps will be taken in this regard in the coming days. I hope the Sarikecili people will migrate under much better conditions in the next spring. This is our hope, because we are determined to continue living by migrating despite all the difficulties. Let this culture last forever… "
Author: Naime Surenkok